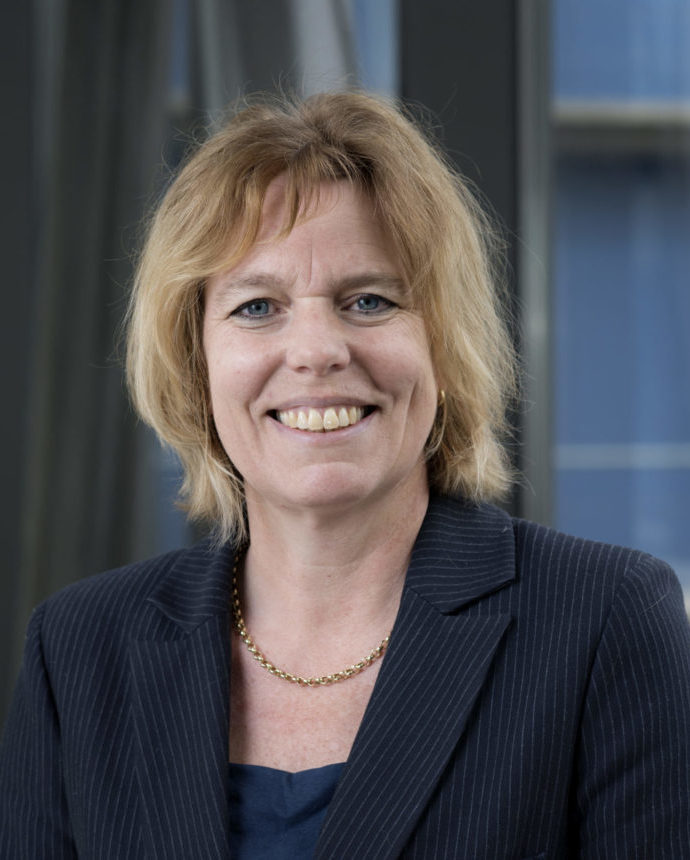 prof.dr. Ingrid Meulenbelt
Professor Molecular Biology of Osteoarthritis
Tel.: +31 (0) 71 526 9734

Department of Molecular Epidemiology
postzone S05-P
P.O. Box 9600
2300 RC LEIDEN
Ingrid Meulenbelt is professor of the molecular biology of osteoarthritis and heads the Osteoarthritis research group within the Molecular Epidemiology section of the Department of Biomedical Data Sciences. She is vice chair of the LUMC VENI committee and member of the operational education consultation of the master biomedical sciences (OOO MaBMS). In 2016, Meulenbelt received an NWO-VICI grant to map the diversity of the underlying molecular osteoarthritis processes. Meulenbelt is a member of the organizing committee of the prestigious international osteoarthritis congress; OsteoArthritis Society International (OARSI) as chair of the abstract (2019) and the program (2020).
Molecular biology of osteoarthritis
Meulenbelt's chair focuses on the molecular biology of osteoarthritis. Osteoarthritis is a debilitating joint disease that affects 1.2 million people in the Netherlands, but for which no effective medicine is yet available. Patients are therefore often dependent on physiotherapy and/or palliative care for many years, which causes a high social and economic burden of disease.
The starting point of Meulenbelt's chair is that the development of effective treatment for osteoarthritis is seriously hindered because the disease process differs considerably between patients.
To unravel the diversity in the osteoarthritis process, Meulenbelt focuses first of all on mapping the characteristic differences at the molecular level between the disease processes that take place in bone and cartilage of patients undergoing joint replacement surgery for osteoarthritis. Based on these characteristic molecular patterns (genetics, transcription, and epigenetics) a human model system of osteoarthritis, an osteoarthritis joint-on-chip, is then developed. This allows further study of the biological basis of these different disease processes in bone and cartilage. By using stem cells (iPSCs) that are stimulated to make high-quality bone and cartilage, a reproducible model is created. With this methodology development, the research also contributes to regenerative medicine within the osteoarthritis field.
Risk factors of osteoarthritis in humans such as heredity and mechanical stress can then be applied in the model to initiate the osteoarthritis process. The model can also be used to search for new targets for effective tailor-made osteoarthritis therapy. To enable translation to the clinic, molecular signaling molecules are detected in blood that can report the disease process present in tissues. As such, the chair addresses several questions from the National Research Agenda and contributes to the important social challenge known as osteoarthritis.
Scientific career
Professor Ingrid Meulenbelt graduated cum laude from the University of Amsterdam in 1990 with a degree in Medical Biology. After working for 2 years as a researcher at Medscand Ingeny, she started her PhD research at Leiden University in 1992 entitled 'Genetic risk factors of osteoarthritis', which she completed in 1997. As a postdoc researcher at TNO Prevention and Health, she continued her osteoarthritis research and set up the landmark study Genetics Osteoarthritis and Progression (GARP) together with the Rheumatology department. In 2000, she transferred to the Leiden University Center (LUMC) as an assistant professor and started her own line of research in functional genomic osteoarthritis research. In 2008, now as an associate professor, she started a second landmark study called Research in Articular Arthrosis Cartilage (RAAK), this time with the Department of Orthopedics. The RAAK study still forms the foundation of current osteoarthritis research in Meulenbelt's group. In 2016 she received a prestigious VICI grant from NWO and partly as a result of this she was appointed professor in the Molecular Biology of Osteoarthritis at the LUMC in 2017. Her inauguration took place on 19-01-2018 and was titled: 'Arthrosis from diversity in molecular pathways to effective tailor-made therapy'.
Prices