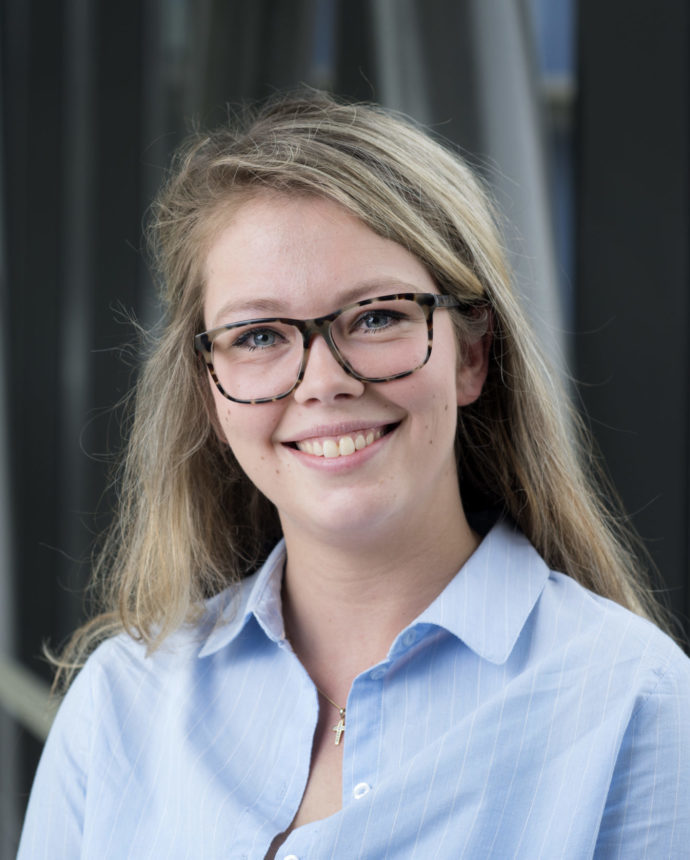 Margo Tuerlings
Tel.: +31 (0) 71 526 9734

Afdeling Moleculaire Epidemiologie
postzone S05-P
P.O. Box 9600
2300 RC LEIDEN
Margo Tuerlings (1992) started her PhD in August 2018 at the department of  Molecular Epidemiology at the Leiden University Medical Center (LUMC).
She obtained her bachelor degree in Medical Science and Technology and her master degree in Biomedical Engineering at Eindhoven University of Technology (TU/e). She completed her first internship at the Microsystems group of the TU/e. During this internship she worked on a project in which she optimized a microfluidic device to study the invasion depth of breast cancer cells. Her graduation project was a collaborative project between the department of Molecular Epidemiology (LUMC) and the Microsystems group (TU/e). During this graduation project she worked on the development and optimization of a joint-on-a-chip model system. This model represents the human joint tissues bone and cartilage and it could be a suitable system to use in functional research studies. Besides, she worked on studying the effect of WWP2 overexpression on cartilage matrix deposition.  During her graduation project, she won the Best hDMT Organ-on-Chip showcase award.
During her PhD, she will focus on the investigation of the bone-cartilage interface and its role in OA pathophysiology.