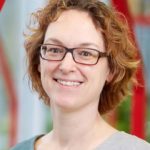 dr. Nicoline Korthagen
Tel.: +31 (0) 71 526 9734

Department of Molecular Epidemiology
postzone S05-P (room S-05-040)
P.O. Box 9600
2300 RC LEIDEN
Nicoline studied Biology at Utrecht University and then obtained her PhD on the genetics of lung diseases at St. Antonius hospital in Nieuwegein (2012). This resulted in a strong interest in immunology and biomarker research. After a short post-doc research at the Department of Immunology of Erasmus MC, she made the switch to osteoarthritis research at the Arthritis Research Center of Excellence at Utrecht University, Faculty of Veterinary Medicine and UMC Utrecht. Here she worked on osteoarthritis treatments in humans and animals. Since 2020, Nicoline has been a post-doc researcher at the molecular epidemiology department of the LUMC and is working with Galapagos BV on an osteoarthritis model that enables large-scale drug screening, the FOACUS TKI-LSH project. In addition, she remains interested in the immunological aspects of osteoarthritis and the immune responses that occur when administering treatments.
Main publications
Impact of Endotoxins in Gelatine Hydrogels on Chondrogenic Differentiation and Inflammatory Cytokine Secretion In Vitro. Groen WMGAC, Utomo L, Castilho M, Gawlitta D, Malda J, Weeren PRV, Levato R, Korthagen NM. Int J Mol Sci. 2020 Nov 13;21(22):8571. doi: 10.3390/ijms21228571.
Sustained intra-articular release of celecoxib in an equine repeated LPS synovitis model. Cokelaere SM, Plomp SGM, de Boef E, de Leeuw M, Bool S, van de Lest CHA, van Weeren PR, Korthagen NM. Eur J Pharm Biopharm. 2018 Jul;128:327-336. doi: 10.1016/j.ejpb.2018.05.001.
Association between variations in cell cycle genes and idiopathic pulmonary fibrosis. Korthagen NM, van Moorsel CH, Barlo NP, Kazemier KM, Ruven HJ, Grutters JC. PLoS One. 2012;7(1):e30442. doi: 10.1371/journal.pone.0030442.