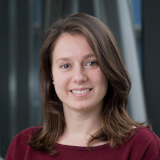 Marcella van Hoolwerff MSc
Tel.: +31 (0) 71 526 9729

Department of Molecular Epidemiology
postzone S05-P (room T-05-046)
P.O. Box 9600
2300 RC LEIDEN
Marcella van Hoolwerff (1990) obtained her bachelor's degree in Life Science & Technology in 2013, which is a collaboration between TU Delft and Leiden University. During her bachelor's research she made a DNA construct with, among other things, ghrelin at the Endocrinology department of the Erasmus MC. She subsequently graduated from the master's degree in Life Science & Technology at Leiden University in 2016. Thefirstmaster's internship was at the Molecular Microbiology department of the LUMC, where she researched suraminas an antiviral agent. During her 2ndmaster's internship at Ohio University's Edison Biotechnology Institute, she investigated the aging of the immune system of growth hormone receptor knockout mice.
In January 2017 she started her PhD research at the Molecular Epidemiology department of the LUMC. The project is supported by the Rheumatism Fund and will focus on investigating the cellular function of fibronectin in healthy and arthritic articular cartilage.
Marcella is currently completing her PhD and is working as a postdoctoral researcher on the NWO Large SCI-MAP project.
Recent publications
Human Osteochondral Explants: Reliable Biomimetic Models to Investigate Disease Mechanisms and Develop Personalized Treatments for Osteoarthritis. Houtman E, van Hoolwerff M, Lakenberg N, Suchiman HED, van der Linden-van der Zwaag E, Nelissen RGHH, Ramos YFM, Meulenbelt I. Rheumatol Ther. 2021 Mar;8(1):499-515. doi: 10.1007/s40744-021-00287-y.
RNA Sequencing Reveals Interacting Key Determinants of Osteoarthritis Acting in Subchondral Bone and Articular Cartilage: Identification of IL11 and CHADL as Attractive Treatment Targets. Tuerlings M, van Hoolwerff M, Houtman E, Suchiman HED, Lakenberg N, Mei H, van der Linden EHMJ, Nelissen RRGHH, Ramos YYFM, Coutinho de Almeida R, Meulenbelt I. Arthritis Rheumatol. 2021 May;73(5):789-799. doi: 10.1002/art.41600.
Elucidating Epigenetic Regulation by Identifying Functional cis-Acting Long Noncoding RNAs and Their Targets in Osteoarthritic Articular Cartilage. van Hoolwerff M, Metselaar PI, Tuerlings M, Suchiman HED, Lakenberg N, Ramos YFM, Cats D, Nelissen RGHH, Broekhuis D, Mei H, de Almeida RC, Meulenbelt I. Arthritis Rheumatol. 2020 Nov;72(11):1845-1854. doi: 10.1002/art.41396.
RNA sequencing data integration reveals an miRNA interactome of osteoarthritis cartilage. Coutinho de Almeida R, Ramos YFM, Mahfouz A, den Hollander W, Lakenberg N, Houtman E, van Hoolwerff M, Suchiman HED, Rodríguez Ruiz A, Slagboom PE, Mei H, Kiełbasa SM, Nelissen RGHH, Reinders M, Meulenbelt I. Ann Rheum Dis. 2019 Feb;78(2):270-277. doi: 10.1136/annrheumdis-2018-213882.
Suramin inhibits chikungunya virus replication through multiple mechanisms. Albulescu IC, van Hoolwerff M, Wolters LA, Bottaro E, Nastruzzi C, Yang SC, Tsay SC, Hwu JR, Snijder EJ, van Hemert MJ. Antiviral Res. 2015 Sep;121:39-46. doi: 10.1016/j.antiviral.2015.06.013.